2023 ITTF Pan American Youth Championships Showcasing the Continents Best Young Table Tennis Talents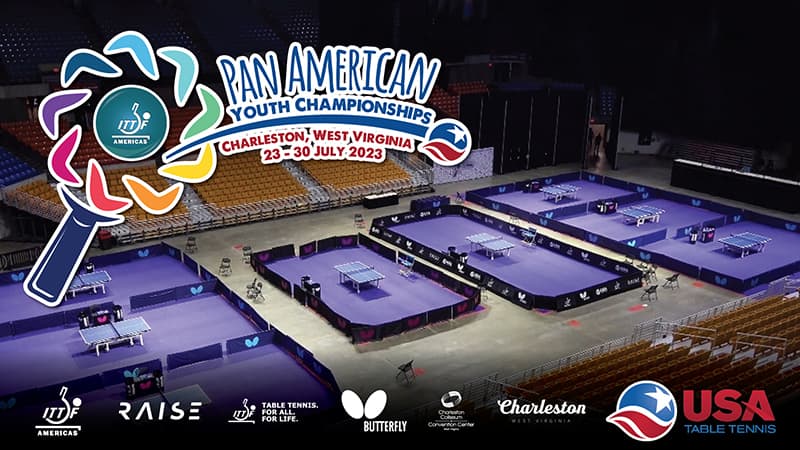 (Charleston, WV — July 22, 2023) – The much-anticipated 2023 International Table Tennis Federation (ITTF) Pan American Youth Championship will kick off from July 23rd to 30th at the Charleston Coliseum and Convention Center in West Virginia. The event, jointly hosted by USA Table Tennis (USATT) and ITTF Americas, will showcase table tennis talents across the continent in the U15 and U19 age groups.
The event will bring together 166 top young athletes from 21 participating countries across the continent, including Argentina, Aruba, Barbados, Bolivia, Brazil, Canada, Chile, Costa Rica, Dominican Republic, Ecuador, Guatemala, Honduras, Jamaica, Mexico, Panama, Paraguay, Peru, Puerto Rico, Saint Lucia, Trinidad & Tobago, and the United States of America.
In a thrilling display of skill and teamwork, young players will compete in 14 categories, vying for titles in the following events:
1. U15 Boys' Team
2. U15 Girls' Team
3. U15 Boys' Singles
4. U15 Girls' Singles
5. U15 Mixed Doubles
6. U15 Boys' Doubles
7. U15 Girls' Doubles
8. U19 Boys' Team
9. U19 Girls' Team
10. U19 Boys' Singles
11. U19 Girls' Singles
12. U19 Mixed Doubles
13. U19 Boys' Doubles
14. U19 Girls' Doubles
Upon conclusion to the event, the championships will qualify two (2) Pan-American singles per gender to the World Youth Championships that will take place from November 26th to December 3rd, 2023, in Nova Gorica, Slovenia.
The tournament's schedule and ticket pricing are as follows:
Preliminary Matches: $20 all-day tickets
Sunday 7/23 – Tuesday 7/25

Thursday 7/26 – Saturday 7/29
Finals: $30 all-day tickets
Wednesday 7/26

Sunday 7/30
For the ultimate experience, fans can purchase the VIP All-Week Pass priced at $250, which includes exclusive seating on the floor of the court areas throughout the entire event. Tickets are available for purchase through Ticketmaster's website at https://bit.ly/ITTFPanAmYouth or by walk-ins at the Charleston Coliseum and Convention Center ticketing counter.
Live streaming coverage of the matches will also be available on ITTF Americas' YouTube page at https://www.youtube.com/@ITTFAmericas.
For media inquiries and accreditation requests, please contact:
Joshua Dyke (USATT), +1 (719) 663-9808, (Josh.Dyke@usatt.org)
Dahlia Dhaima, (dahlia@thinkraw.asia)
Jack Low, (jack@thinkraw.asia)
Follow the action and get updates on social media:
ITTF Americas' social media
Facebook: https://www.facebook.com/ITTFAmericas
Instagram: https://www.instagram.com/ittfamericas/
Twitter: https://twitter.com/ITTFAmericas
TikTok: https://www.tiktok.com/@ittfamericas
Flickr: https://flic.kr/ps/3Wh5wt
USATT's social media
Facebook: https://www.facebook.com/usatabletennis
Instagram: https://www.instagram.com/usatabletennis_
Twitter: https://twitter.com/usatabletennis
About ITTF Americas
The Pan American Table Tennis Confederation is the organization that brings together 45 member associations of the ITTF in the Americas, and it is recognized by the Panam Sports Organization. It had its Founding General Assembly on June 26th, 2019, and was officially recognized on November 24th, 2021, in the ITTF constitution.
About USA-Table Tennis
USA Table Tennis is organized under the United States Olympic Committee as the National Governing Body for the sport of table tennis in the United States. As a member service organization, it promotes table tennis by creating opportunities for athletes and coaches of all backgrounds to participate through more than 250 clubs and over 350 national tournaments annually. USA Table Tennis is a member of the International Table Tennis Federation (ITTF) responsible for selecting and training teams for international competitions, including the Pan American, Parapan, Paralympic, and Olympic Games.