USA Wins Two Medals at Cali Pan Am Junior Games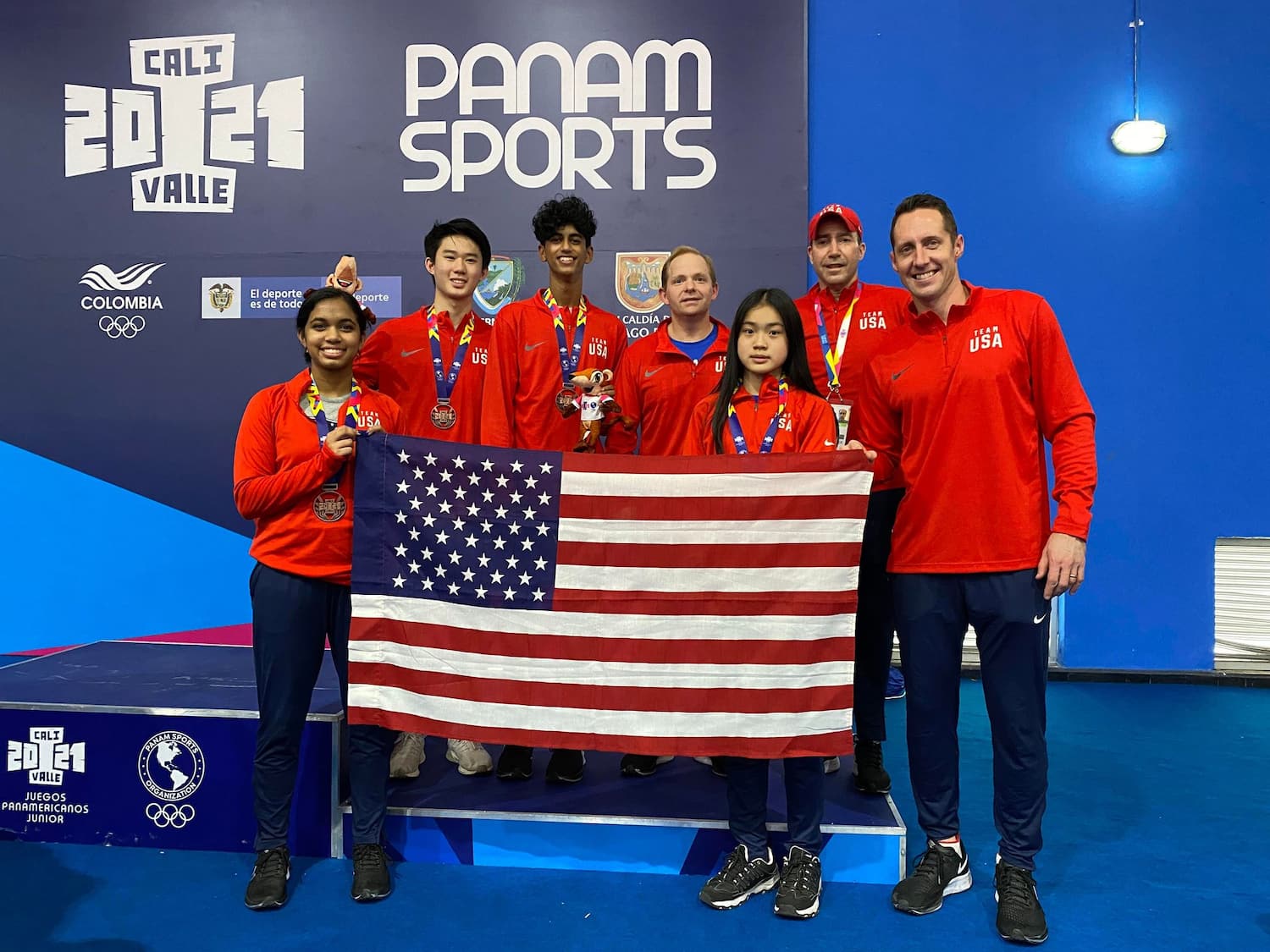 Team USA at the Junior Pan Am Games in Cali, Colombia. December 5, 2021. Credit Daniel Rutenberg
(Colorado Springs, CO - December 6, 2021)- The United States traveled to Cali, Colombia for the Pan American Junior Games which ran November 30 - December 5.
Remaining hot, Team USA fought hard all week and came home with two bronze medals.
USA athletes Sid Naresh, Jayden Zhou, Sarah Jalli, and Yishiuan Lin led Team USA to the two bronze medals, coached by Samson Dubina and Cory Eider.
"The Pan Am Junior Games was an amazing event! The best part was the team unity! On the court and off the court, the coaches and players worked together as a team to get the best possible results for Team USA! Against the best under 21-year-olds in the western world, these US players (ages 13-17) performed well and won some international titles! Besides just the titles, they gain experiences that will continue to fuel their motivation to reach higher and higher," said Coach Dubina.
Friday saw the U21 Men's Team split the group match, beating the Dominican Republic 3-0, and losing to Chile 1-3; good enough to advance to the quarter-final Saturday versus Puerto Rico.
"We were down 0-2 to a Puerto Rican team in the medal match that won the doubles here and faced long odds to come back. Jayden and Sid didn't flinch and swept the doubles 3-0. Jayden then beat the silver medalist at this tournament Angel Naranjo 3-0 and it all came down to Sid Naresh who was simply unbelievable under pressure and pulled out a victory over a young and talented lefty 11-9 in the 5th. I'm proud of the fight and determination from our young athletes," said Coach Eider.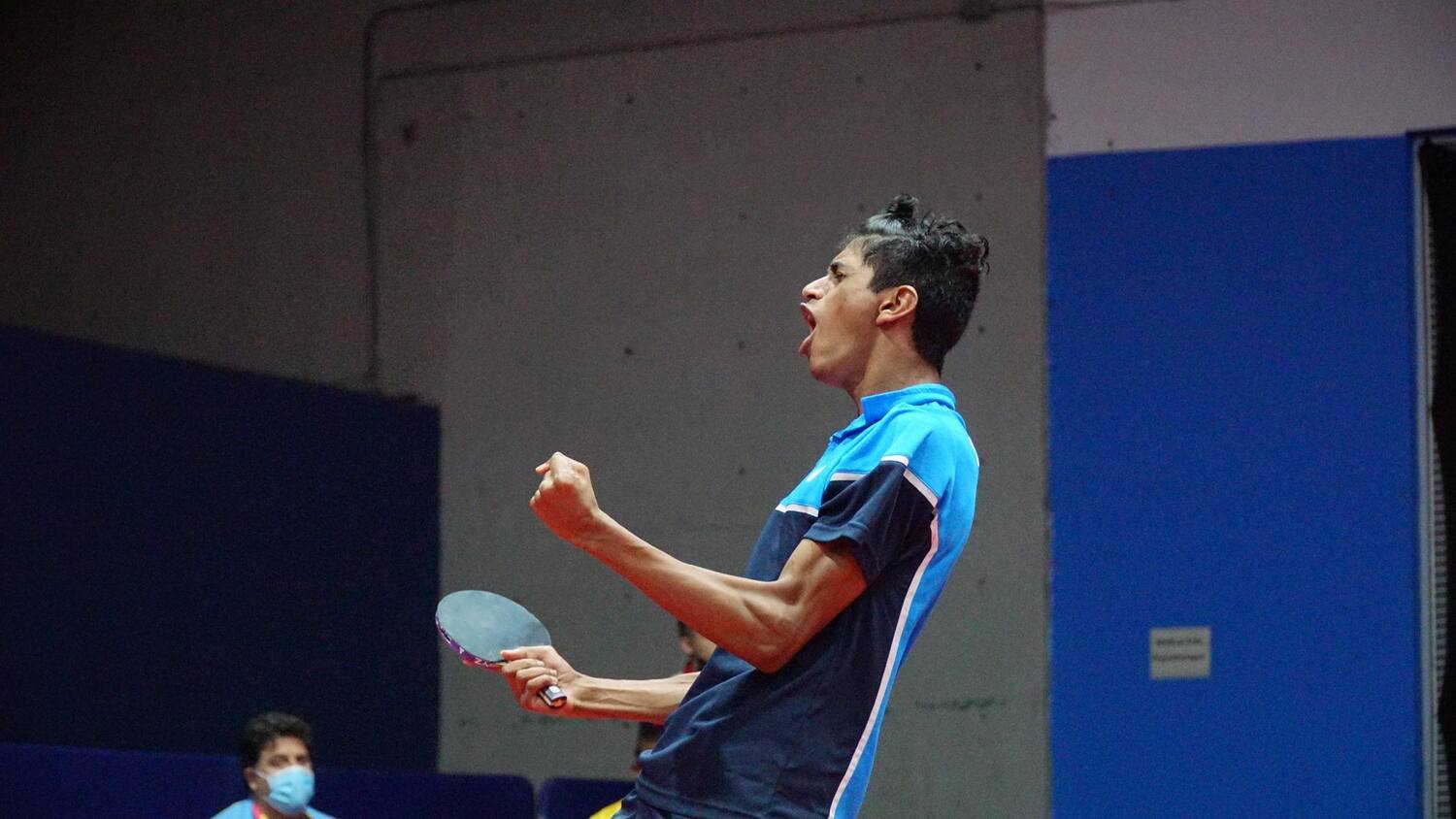 Sid Naresh at the Junior Pan Am Games in Cali, Colombia. December 4, 2021. Credit Juan Felipe Delgado.
After a great victory over Puerto Rico, the Men were into the semi-final versus Brazil. Sid Naresh started strong with a 3-0 win (11-4, 11-7, 11-7) over Diogo Silva, giving the United States the 1-0 lead. However, Brazil would go on to win the next 3, propelling themselves to the gold medal match.
In the round of 16, the USA's U21 Women's doubles team of Sarah Jalli and Yishiuan Lin took on the Dominican Republic duo of Esmerlyn Castro and Shary Munoz, beating them in straight sets 3-0 (11-9,11-7, 11-6). In the Quarter-Final Lin and Jalli would move swiftly past Venezuela, winning 3-1 (6-11, 11-9, 11-6, 12-10). Going on to lose in the semi-final to Mexico 1-3 (6-11,2-11, 11-4, 9-11) the women secured the second bronze medal for Team USA.
More information on the results: Cali 2021 Pan American Results
Nick is a Senior Sports Communications Major at Texas Wesleyan University. Nick plans to graduate in the Spring of 2022 where he intends to continue pursuing Sports Journalism.