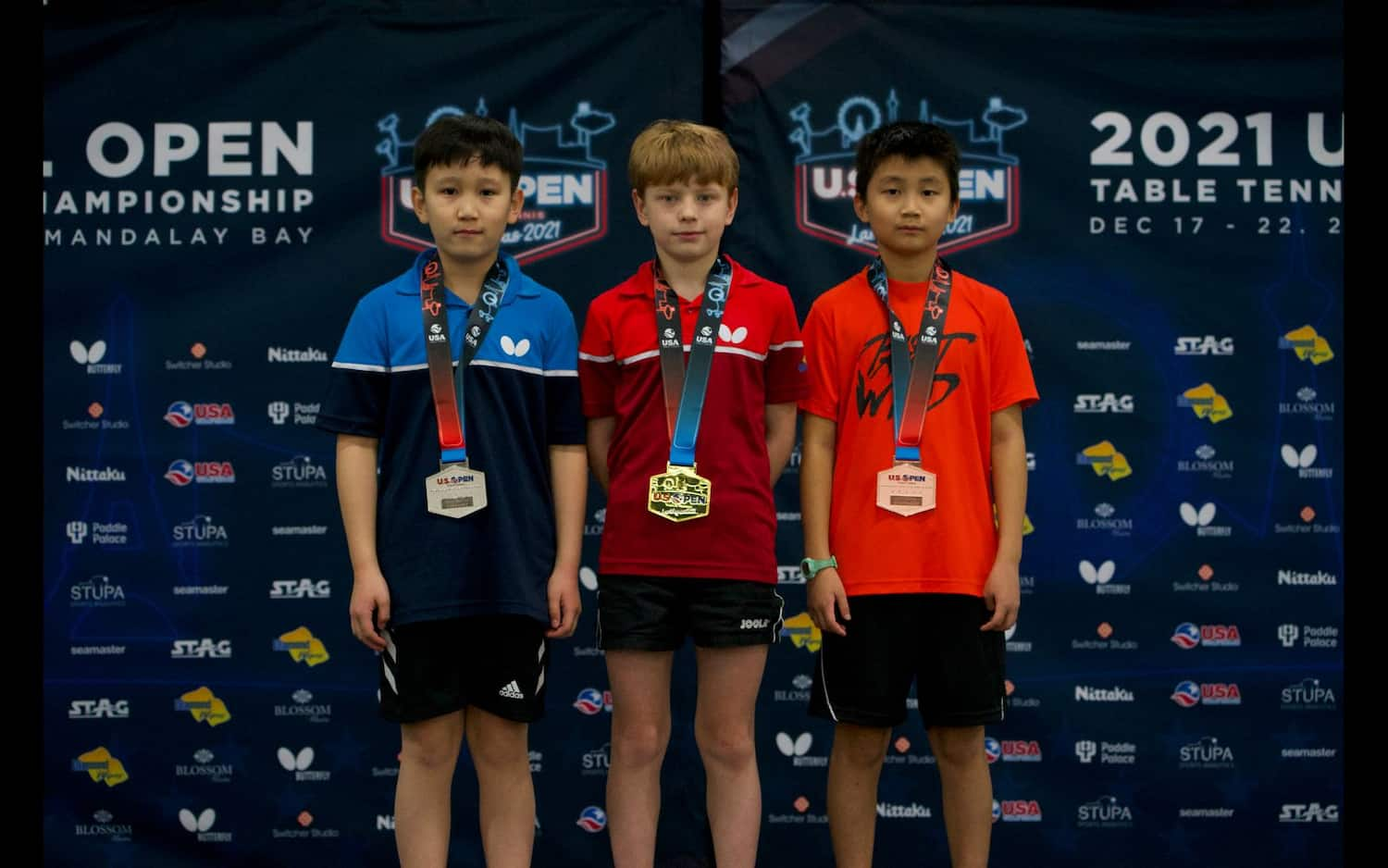 Winners of the U-11 Boys Singles. (Left to right) Kyler Chen, Max Mouchinski, Jason Liu. (Not pictured, Kef Noorani). Taken in Las Vegas, Nevada USA. December 19, 2021.
(Colorado Springs, CO - December 20, 2021) - For those that love action, Day three of the 2021 U.S. Open Table Tennis Championships had plenty of it.
Men's and Women's open singles both continued, moving into the semi-finals of the event. Nikhil Kumar will play Eugene Wang for a spot in the final today, and Lei Kou will play Daniel Gorak for his chance to play for Gold. In the Women's bracket Zhen Deng punched her ticket to the final with a crucial 4-1 win against Yixiao Wang. Lily Zhang showed her dominance again cruising to a 4-0 win versus Jiangshan Guo. Zhen Deng and Lily Zhang are set to play for Gold and Silver today on Table One.
The U-19 Girls Singles also concluded, seeing the young and upcoming Sally Moyland (also winner of the U-15 Girls Singles) take a 3-1 victory over Tiffany Ke. The U-19 Boys is set to conclude Monday, with Darryl Tsao already in the final awaiting his opponent.
With over 27 events completed, more than ⅓ of the tournament was completed just during Wednesday.
With another 11 events set to start today, Mandalay Bay is buckled in for another round of action.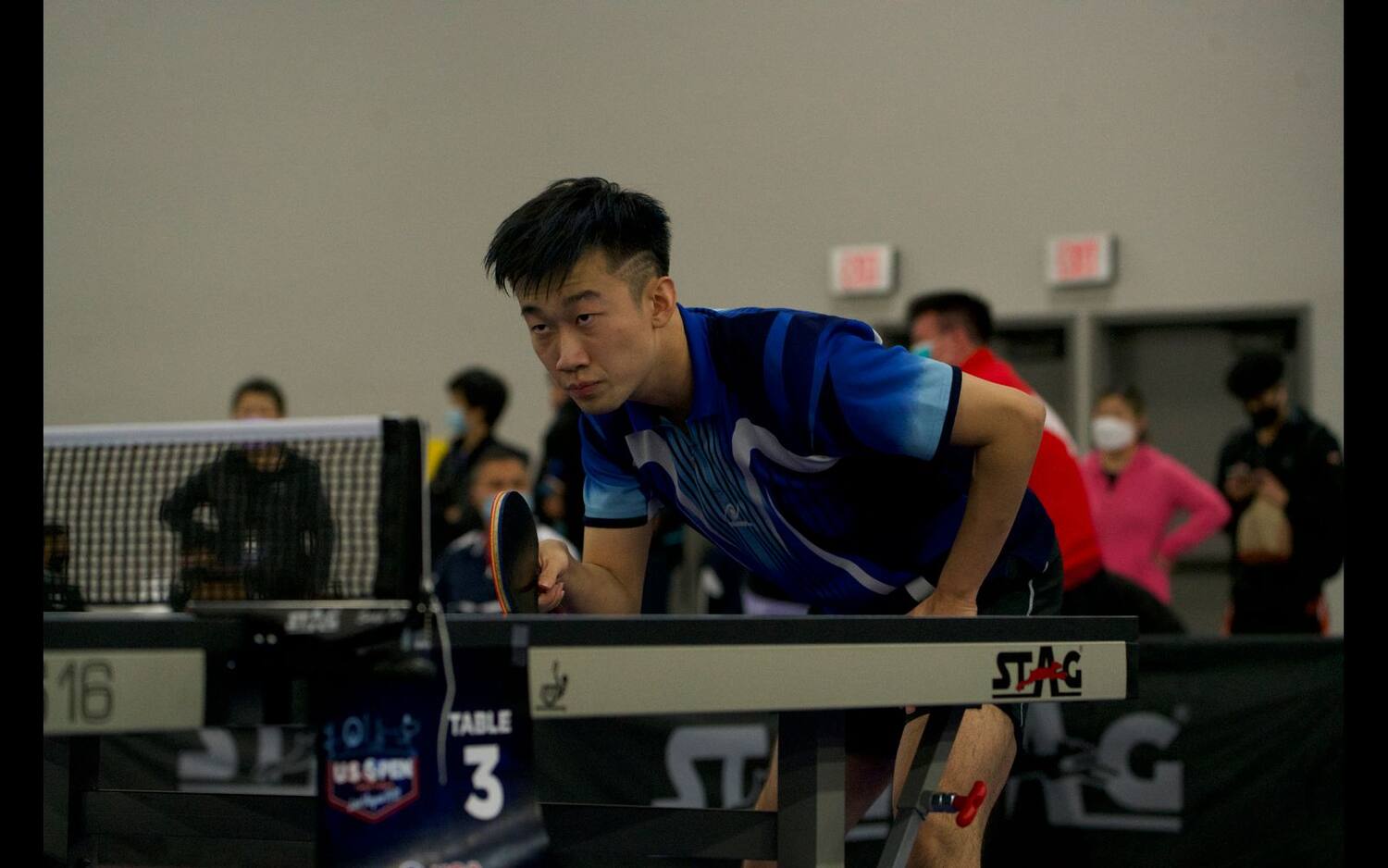 Kai Zhang at the US Open Mixed Doubles Quarter-Final. Taken in Las Vegas, Nevada USA. December 19, 2021.
Other notable finishes:
U-17 Boys Singles: 1st:Aditya Sareen 2nd:Sushant Lebaka 3rd:Jensen Feng/Simeon Martin
U-17 Girls Singles: 1st:Lucy Chen 2nd:Crystal Liu 3rd:Rachel Wang/Linda Shu
U-15 Girls Singles: 1st:Sally Moyland 2nd:Emily Quan 3rd:Yishiuan Lin/Rachel Wang
U-13 Boys Singles: 1st:Aditya Sareen 2nd:Patryk Zyworonek 3rd:Xianyao He/Steven Moreno Rivera
U-13 Girls Singles: 1st:Yishiuan Lin 2nd:Amber Liu 3rd:Carmen Yu/Genelia William
U-11 Boys Singles: 1st:Max Mouchinski 2nd:Kyler Chen 3rd:Jason Liu/Kef Noorani
U-11 Girls Singles: 1st:Irene Yeoh 2nd:Terrie Yu 3rd:Iana Gonzalez Rodrig/Geetha Krishna
30 & Over Men's Singles: 1st:Timothy Wang 2nd:Guo Hui Lu 3rd:Matthew Winkler/Paul David
30 & Over Women's Singles: 1st:Yan Ge 2nd:Anjana Rao
For all the draws and finishes of the past three days checkTournament Results
Table One will be livestreaming all day on USATT Facebook
More info on the events going on today in the US Open Prospectus