Texas SQT - San Antonio Table Tennis Club, Vlad Farcas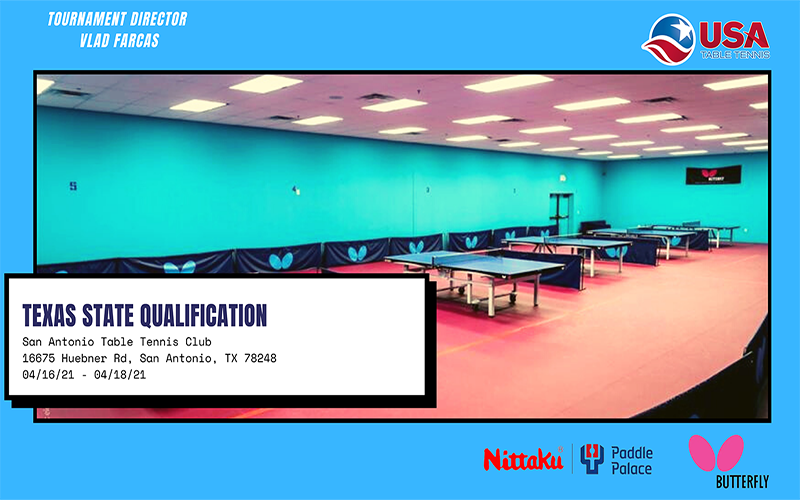 Texas will present the 2021 US Nationals Table Tennis Championships State Qualification Tournament (SQT). From Friday, April 16th to Sunday, April 18th. San Antonio Table Tennis Club (SATTC) will accommodate the Texas state event.
The Texas SQT Senior Events occurring on the 16th will be at SATTC, and the events taking place on the April 17th – 18th will be at the St. George Church Gymnasium. In addition to the Texas SQT events, the club plans to hold eight additional USATT Sanctioned Events that include Open Singles and various Ratings Restricted events.
Since 2009, the non-profit San Antonio Table Tennis Club has resided at 16675 Huebner Rd, San Antonio, Texas. The club has eight courts, all equipped with Butterfly Europa Tables. The gymnasium facility for the larger portion of the state event will have fifteen tables and a centralized finals event court. The combination of locations are fit for large-scale tournaments, and the club exhibits itself as the premier facility to host the 2021 Texas SQT.
Club president Vlad Farcas has been with San Antonio Table Tennis Club since 2018 when he joined the club as a member, and in 2020 assumed the role of club president. Farcas is a coach at SATTC and played in the Romanian Table Tennis League 2. He has played table tennis for most of his life and cherishes his presidential role with SATTC as a chance to help develop table tennis in America.
Farcas sees his club as a place where players can drop in and meet up with friends. To him, it is an enticing atmosphere where bonds are made that outlast just playing table tennis and heading for the club door at the end of the day.
"A Lot people come here and find a family; we would go to dinner after we play or after we all finish playing and we hang out. There is a lot of people who come in and make friendships and build friendships during the year… The social atmosphere for the club, besides table tennis, I think it's what makes people come back and play," said Vlad on what he feels his members experience at SATTC.
Vlad and his players are ecstatic at the prospect of the Texas State Qualification Tournament. They are eager to see the results the state event has for Texas. The US Nationals competition structure is evolving. SATTC wishes to see how it will support the strength of table tennis in the United States.
San Antonio expects table tennis players from Austin, Dallas, Fort Worth, Houston, and even as far as Amarillo to showcase their talents at the Texas State Qualification Tournament. There is a competitive nature in Texas that spurs players to be the best they can be. What better way than competing at the Texas State Qualifier, where they will have all their skills on display while striving to be state champions.