USA Table Tennis Board of Directors Seeks Applications for Vacancy on Tournament Committee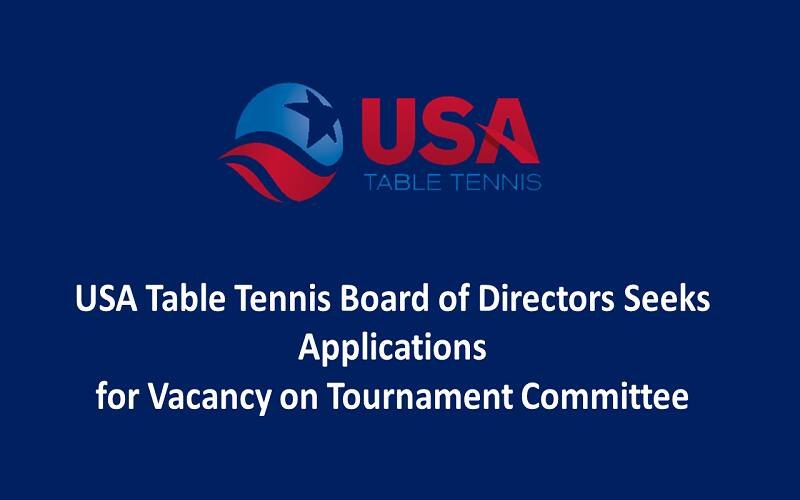 USA Table Tennis Board of Directors Seeks Applications
for Vacancy on Tournament Committee
USATT Board Will Fill Vacancy on Tournament Committee from the USATT General Membership
(Colorado Springs, CO – May 25, 2021) – The Board of Directors for USA Table Tennis ("USATT"), the National Governing Body for the sport of table tennis, today opened the process to receive applications for persons interested in serving on the USATT's Tournament Committee. There is currently one vacancy on the Tournament Committee.
The Tournament Committee, which serves to provide advice to the Board and organization on matters related to the operations and conduct of sanctioned tournaments, is currently comprised of Wendell Dillon, Steve Betts, Vinod Kambrath, Vikash Sahu, Mike Babuin, Jimmy Butler (Athlete Representative), Tim Wang (Athlete Representative), and Jenson Van Emburgh (Athlete Representative). The Tournament Committee Chair will be determined after the current vacancy on the Committee is filled.
Candidates will be evaluated on a variety of factors including education, experience, availability, and the desire to assist USATT in the efforts to improve the quality of USATT sanctioned tournaments. To be eligible for a position on this committee, the individual must be at least eighteen (18) years old, and the successful candidate to be a member in good standing of USATT as of the time of appointment to the position. As with all USATT Committee Members, the selected candidate must become SafeSport Compliant prior to be appointed to the position. The selected candidate will be appointed to a term that will run through February 28, 2023.
Interested individuals should send a resume and a letter of interest to USATT General Secretary Mark Thompson, mark.thompson@usatt.org.
The Board requests that applications be submitted by June 6, 2021, but the nomination period will be open until the committee position is filled.