USA Table Tennis Announces 2021 ITTF Pan Am Youth Championship U13 and U11 Teams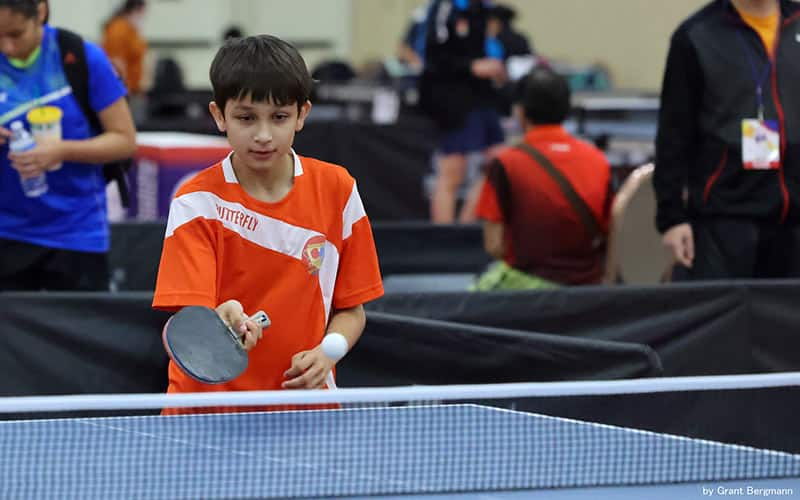 Kef Noorani in tournament play during the 2021 U.S. National Championships in Las Vegas, NV, July, 2021.
National Team Members and Coaching Staff Set for Elite Age Level Event at Pan American Youth Championships in Cuenca, Ecuador
(Colorado Springs, CO – September 13, 2021) – USA Table Tennis today announced the US National Team members who will represent the United States at the 2021 ITTF Pan Am U-13 and U-11 Championships in Cuenca, Ecuador, on October 18 – 24. This event in Ecuador represents the highest level of competitive table tennis for Americans in these age categories.
"The table tennis community in America should be very proud of the group that will represent our country in the upcoming U-13 and U-11 Pan American Championships in Ecuador," said Sean O'Neill, the High Performance Director for USATT. "Of course, the future of American table tennis is really in the hands of these young athletes, and we're extremely fortunate to have not only a group of talented youngsters ready to play in this event, but also several of our best leaders and coaches who are devoting their time and energy to developing this young talent."
The Team Leader for the American Entry in this event is Daniel Rutenberg, who stated, "I'm excited to be involved with this Pan American Youth Championship as a Team Leader, and I'm looking forward to serve the many players competing internationally for the first time."
Rutenberg is a certified U.S. National Coach and former U.S. Paralympic National Team Coach (2009-2012) and has coached at many international Para events including the 2011 Parapan American Games in Guadalajara, Mexico. Rutenberg has served as Team Leader for many national and international events to include the 2019 Parapan American Games in Lima Peru; 2019 World Cadet Challenge in Poland; 2019 ITTF North American Youth training camp Westchester, New York; 2019 North America Olympic Trials in Rockford, Illinois, and multiple U.S. Para Opens. A three-time recipient of the Paralympic Coach of the Year Award, Daniel has also been selected as USATT's Volunteer Coach of the Year. Daniel is USATT's High Performance Manager and has affiliations with Pong on Wheels in Frisco, Texas.
Rutenberg will be assisted by four coaches at this event, including Larry Hodges (U-13 Boys), Wei Qi (U-13 Girls), Qiumars Hedayatian (U-11 Boys), and Thilina Piyadasa (U-11 Girls).
Hodges, from the Maryland Table Tennis Center, is a member of the USATT Hall of Fame and was the 2018 USATT Lifetime Achievement Award recipient. He's a USATT Certified National Coach and has coached American teams in tournaments around the world since the 1980s. When asked about the event, Hodges stated, "Coaching is easy; adjusting to high altitude in a country 4,000 miles away where they speak another language and eat guinea pigs (really!) is hard."
Qi Wei, who works at the Rochester Table Tennis club, is a member of the US National Development Coaching squad. He is a USATT Certified National Coach and has coached the US Junior team since 2016, including serving in a coaching capacity at the World Junior Championships, World Cadet Challenge, and World Hope Challenge.
Qiumars Hedayatian is a national level coach with over twenty years of coaching experience and is among the highest rated players in the country. As a player, he competed in the Junior Asian Games representing Iranian Junior National Team. He has also played in German league professionally and competed throughout Europe for over twenty years. Coach Qiumars has been recognized for training many junior players from beginning to Master level.
Thilina Piyadasa, who is based at the California Table Tennis Club in Rosemead, California, was an eight-time National Men's Singles Champion in Sri Lanka, served as captain of the Sri Lankan National Team from 1999 through 2006, and has over 20 years of international tournament experience. His USATT rating is over 2500. He's a USATT Certified National Coach with more than 15 years of experience in coaching juniors and has produced many Junior USA team members. He also coached Sri Lankan Senior and Junior National Teams at the Indian Open ITTF Pro Tour Event.
2021 US National U-13 Boys' Team
1. Stanley Hsu (MD)
2. Mu Du (MD)
3. He Xianyao (CA)
4. Krish Gandhi (MA)
2021 US National U-11 Boys' Team
1. Kef Noorani (CA)
2. Brian Wu (NY)
3. Max Mouchinski (NJ)
4. Kyler Chen (NC)
2021 US National U-13 Girls' Team
1. Amber Liu (GA)
2. Yishiuan Lin (MA)
3. Mandy Yu (MN)
4. Aria Shi (NJ)
2021 US National U-11 Girls' Team
1. Tashiya Piyadasa (CA)
2. Irene Yeoh (CA)
3. Geetha Krishna (GA)
4. Abigail Yu (MN)
USATT sends out the organization's best of wishes to all of the competitors at the 2021 ITTF Pan Am Youth U-13 and U-11 Championships in what should be an exciting and fun event. Best of luck to all!
End.21 09-13c