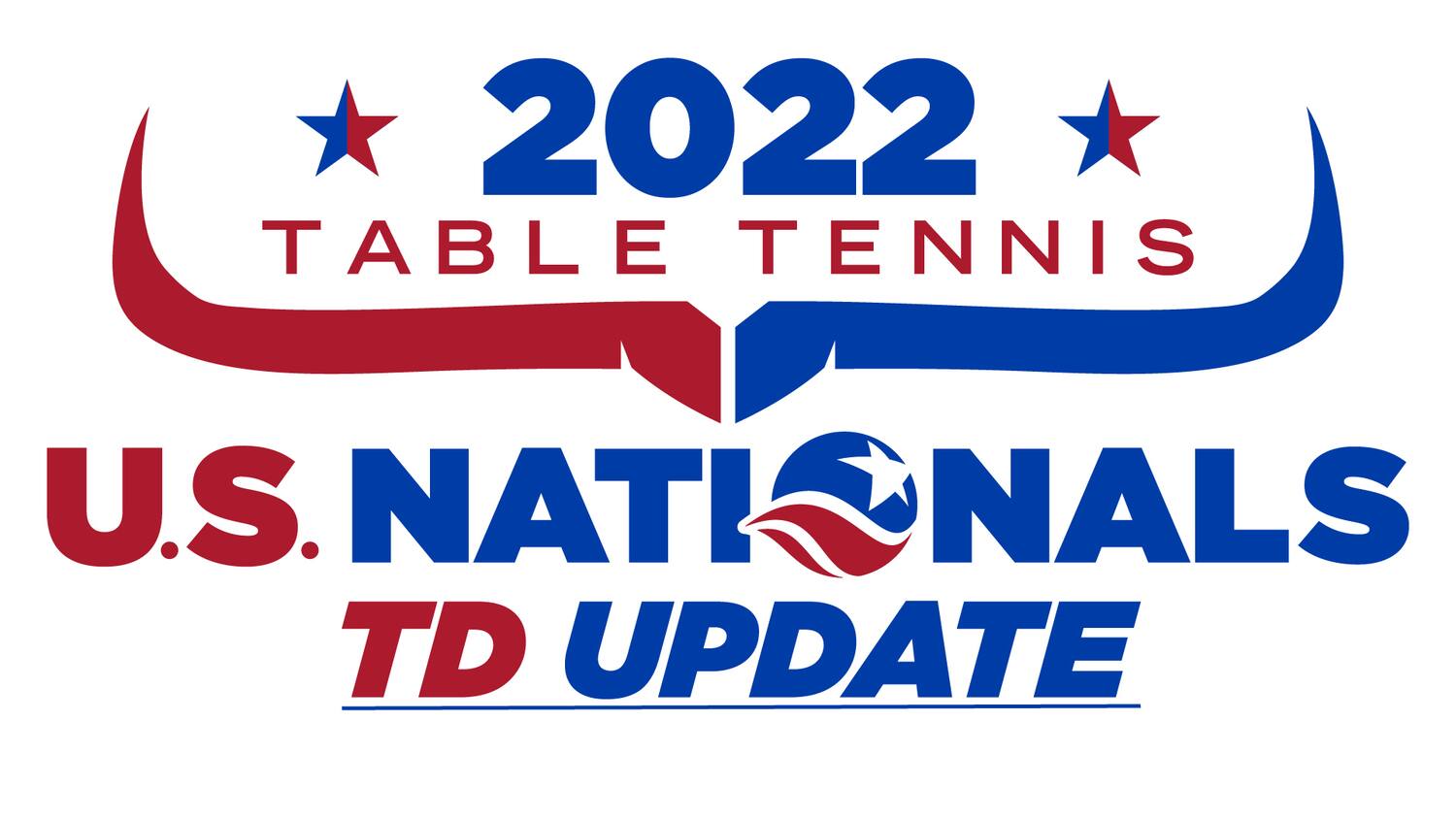 Registrations for our National Championship in Ft. Worth are rolling in and this promises to be a really great tournament! Several changes have been implemented which will have much to offer to everyone. As an example, we have 112 events! This is more than twice what we had last summer due to covid restrictions – so there are plenty of events to choose from. As an example, there are 16 adult, age singles events going from 30 years old all the way up to 85 and over!
Doubles are also well represented with men's and women's doubles going up to 80 years of age, and mixed doubles up to 60 and over. There's also plenty of Junior, Cadet and Mini-cadet events – both age based and rating based events. Thanks to the generosity of Si and Patty Wasserman, I am pleased to also report that there are no less than 11 hardbat events based upon gender, rating, and age – and the return of two sandpaper racket 'specialty events' are offered as well.
We also have seven Para events and for the first time ever, seven Parkinson's Events! I would ask you all to consider signing up now for the Nationals and also tell your friends at your local table tennis club to do the same.
My #1 goal as Tournament Director at this year's Nationals is to minimize delays and start times to the maximum extent and as humanly possible. In order to accomplish this we are bringing-in 110 tournament quality tables to help move the schedule along for high turnout events. This coupled with ample planning, tournament design, and a team of dedicated volunteers will make this an amazing tournament for everyone. Operations is a crucial component of planning any tournament. I am pleased to report that we have a solid operational team compiled to make the tournament run smooth and steady. These individuals include Omnipong staff coupled with a team of European Tournament Directors that have run and managed many ITTF events including the World Championships, Singapore Open, European Championships, and many, many others. I have full confidence that things will run smoothly and we will be on-time for event start times.
Finally, if you or any family/friends are willing to volunteer at the Nationals for one or more six hour shifts, please write me directly at: babuinm@campbell.edu and I will put you in touch with our Volunteer Director.
If you haven't been to the US Nationals in a while or if this is your first time, take the leap and sign-up now at OmniPong or, at the link below:
https://www.omnipong.com/t-tourney.asp?e=0
Also, please visit the US Nationals' Homepage:
https://www.teamusa.org/usa-table-tennis/2022-us-national-table-tennis-championship
See you all in Ft. Worth!
Mike Babuin/Tournament Director