USA Table Tennis Announces 2022 U.S. Nationals Regional Qualification Tournament Event Schedule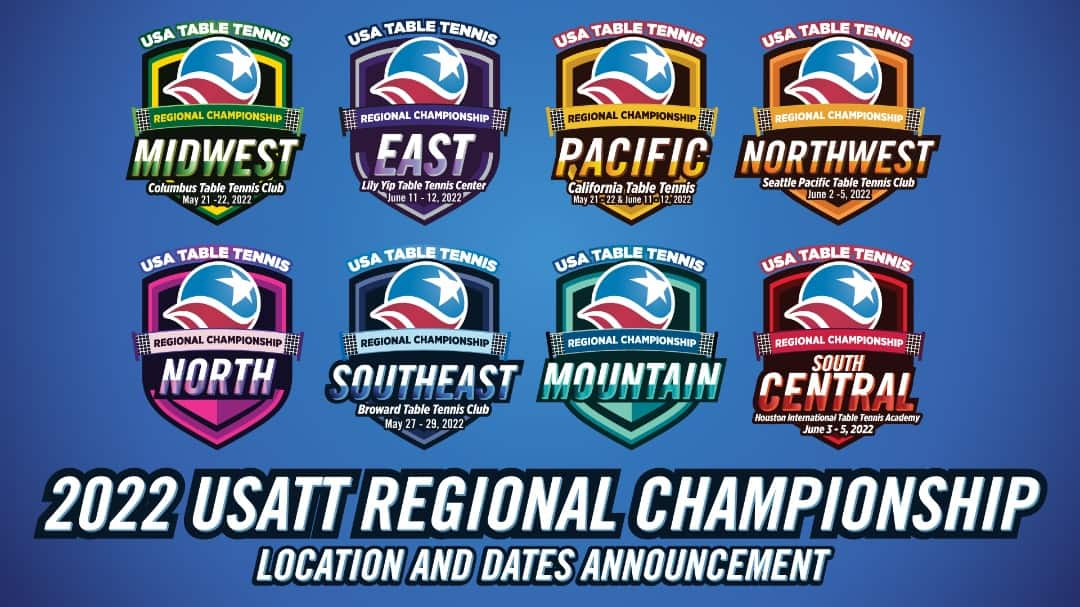 COLORADO SPRINGS, COLO. – USA Table Tennis today announced the 2022 U.S. National Table Tennis Championships – Regional Qualification Tournament event schedule. The 2022 Regional competitions will begin in eight regions across the U.S. between May 21 and conclude by June 12.
Each of the eight USATT geographic regions may hold a Regional Qualification Tournament. The eight regions are as follows: East, Midwest, Mountain, North, Northwest, Pacific, South Central, and Southeast. All regional states may also be seen here.
In a Regional Qualification Tournament; of the 31 Championship Events, there will be one 2022 U.S. Nationals qualifier for every eight participants. A maximum of three qualifiers per championship event will be determined by the number of participants per championship event.
Regional Qualifiers must be U.S. citizens to be eligible for free championship event entry and optional placement into the Main Draw at the 2022 U.S. National Table Tennis Championships in Fort Worth, Texas, from July 2 – July 7, 2022.
State and Regional Qualification Tournament winners attending the 2022 U.S. Nationals must complete registration and payments before:
Confirmation of status as a registered participant

Qualifying for entry fee adjustment or reimbursement at 2022 U.S. Nationals

Entry into 2022 U.S. National events or Main Draw, including qualification tournament championship events
State and Regional Championship Event entry may be closed upon reaching the maximum number of registered participants in the same event time slot. All qualification winners must register and submit entry fee payment on Omnipong of eligibility to enter an events main draw before an event closure and the tournament entry deadline.
2022 USATT REGIONAL QUALIFICATION TOURNAMENTS EVENT SCHEDULE
EAST REGION
CT, DE, ME, MD, MA, NH, NJ, NY, PA, RI, VT, VA, & WV
Lily Yip Table Tennis Center
370 North Ave, Dunellen, NJ 08812
June 11-12, 2022


MIDWEST REGION
IL, IN, KY, MI, & OH
Columbus Table Tennis Club
653 E 8th Ave, Columbus, OH 43201
May 20-22, 2022


NORTHWEST REGION
AK, ID, MT, OR, & WA
Seattle Pacific Table Tennis Club
13249 NE 20th St, Bellevue, WA 98005
June 4-5, 2022


PACIFIC REGION
AZ, CA, HI, & NV
California Table Tennis
2727 Stingle Ave. #10, Rosemead CA 91770
May 21-22 and June 11-12, 2022


SOUTH CENTRAL REGION
AR, KS, LA, MO, OK, & TX
Houston International Table Tennis Academy
510 Mason Rd, Katy, TX 77450
June 3-5, 2022


SOUTHEAST REGION
AL, FL, GA, MS, NC, SC, & TN
Broward Table Tennis Club
3371 N. University Dr, Davie, FL 33024
May 27-29, 2022


MOUNTAIN REGION
CO, NE, NM, UT, & WY
NORTH REGION
IA, MN, ND, SD, & WI