Day 2: Doubles Take the Stage at the U.S. Open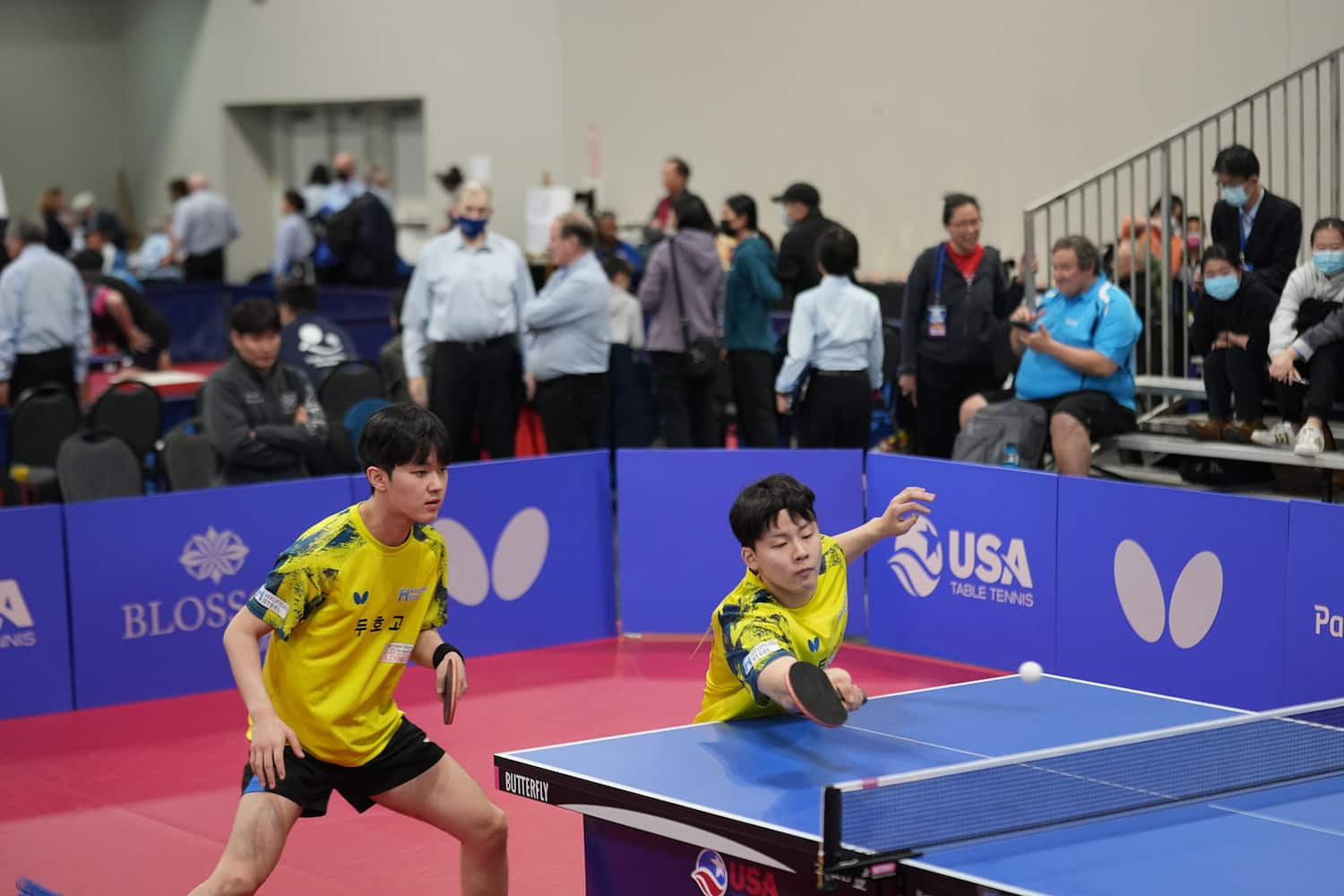 Many of the events beginning on Day 2 of the U.S. Open Championships tournament were among the doubles event categories. The round-robin style formats of Day 2 determined the knockout round seedings as the doubles events took the stage at the Ontario Convention Center.

In best-of-five doubles matches, the players took on the task of staying in rhythm and strategy to outwit and outplay their opponents. Nikhil Kumar, U.S. Men's National Team member, spoke on the importance of choosing the right doubles partner you can rely on, "It's part of the reason that goes into picking out who I want to play with. Also, someone who I can trust and someone whose style is compatible with mine. I like to play more of a supporting role in doubles. I like setting it up for my partner to finish, but also, I can take advantage if I need to attack the ball too. I find someone whose style matches with me or complements my style, but trust is very important."
As the doubles teams proceed through the competition, they'll continue to establish the necessary repetition to make the latter stages of their doubles events. The doubles teams press onwards into Day 3, where the upper echelon of teams will move into the finals rounds and have an opportunity to medal in their respective championship finals.
Later in the evening of Day 2 was the club panel discussion: Member Club Development and Tournament Sanctioning Process. Club Committee Chair Vinod Kambareth led the panel. Joining Kambareth on the panel were Will Shortz (Westchester TTC, NY), Rajul Sheth (ICC Table Tennis), CA), Manny Velazquez Cintron (Houston ITTA, TX), Tawny Banh (Pacific Regional Sanctioning Coordinator), Tina Ren (USATT) and Joshua Dyke (USATT).

The panel featured representatives from some of the most successful clubs in the sport. Speakers shared advice for starting new clubs — the reoccurring model — to start clubs on a small scale and then begin growing in table numbers and playing space as your club builds its membership and brand.

Utilizing promotional tools was another reiterated strategy of club owners during the meeting. For clubs to get involved in their local community and establish a connection with other activities for juniors at your club. Hosting camps and sanctioned tournaments were an emphasis as a form of table tennis revenue from the club owners. Another component that has led to success is using social media, web posts, and targeted email blasts to promote the club events.

Accompanying their advice for club promotion, the sense of unity was prevalent in the words of the panel to work together rather than as separate entities, be it tournament scheduling or encouraging players to visit other clubs in the local area. Through the evening, open and constructive dialogues were a welcoming sight for a panel with the intention of seeing table tennis clubs find business success paired with the growth of the sport of table tennis.
---
2022 U.S. Open Table Tennis Championships Day 2: Posted Results
Women's 50+ Singles
1st - Lily Yip
2nd - Gina Dole
3rd - Jiangtao Ma
3rd - Shuqin Shi
Men's 75+ Singles
1st - Alireza Hejazi
2nd - Dell Sweeris
3rd - David Sakai
3rd - Ali Oveissi
Women's 75+ Singles
1st - Donna Sakai
2nd - Connie Mae Sweeris
U19 Boys' Doubles
1st - Angel Naranjo / Jabdiel Torres
2nd - Yu-Sheng Peng / Hsiang -Yuan Tien
3rd - Daniel Lindso / Elliot Lundqvist
3rd - Sang-Hyeok Lee / Mun-Jun Choi
U19 Girls' Doubles
1st - Youruo Wu / Luoxuan Shao
2nd - Rachel Sung / Kylie Lam
3rd - Lucy Chen / Emily Tan
3rd - Isabella Xu / Tiffany Ke
U11 Boys' Doubles
1st - Kyler Chen / Jason Liu
2nd - Joe Zhang / Mohammed Yasin Musthafa
3rd - Jaden Jia / David Yifeng Xu
3rd - Jayden Cai / Andrew Huang
U11 Girls' Doubles
1st - Abigail Yu / Irene Yeoh
2nd - Angela He / Tiana Piyadasa
3rd - Tanvi Desai / Emma Dong
3rd - Sophia Chen / Anagha Kasichainula
40 & Over Men's Doubles
1st - Mingwei Ju / Kenneth Pinili
2nd - Yinka Olasoji / Paul David
3rd - Greg Bartz / Changwoo Lim
3rd - Guo Hui Lu / Tuan Dai Le Md
40 & Over Women's Doubles
1st - Lily Yip / Patty Martinez-Wasserman
2nd - Diane Dongye Chen / Gina Dole
3rd - Yan Ge / Jiangtao Ma
3rd - Wendy Fang / Megha Ranganath
50 & Over Men's Doubles
1st - Derek May / Yuxiang Li
2nd - Hu Wang / Shuang Yu
3rd - James Therriault / Jian Zhuang
3rd - Tuan Dai Le Md / Tung D. Phan
50 & Over Women's Doubles
1st - Diane Dongye Chen / Gina Dole
2nd - Lily Yip / Patty Martinez-Wasser
3rd - Mei Wang / Jianxia Xiao
3rd - Yan Ge / Jiangtao Ma
60 & Over Men's Doubles
1st - Yuxiang Li / Bin Hai Chu
2nd - Sung Kook Choi / Jin Up Kim
3rd - George Guo / Harry Wang
3rd - Kyle Drake / Michael Gopin
60 & Over Women's Doubles
1st - Yan Ge / Jiangtao Ma
2nd - Shuqin Shi / Patty Martinez-Wasserman
3rd - Wendy Fang / Tingning Cheung
3rd - Yude Chan / Stacy Zhang
70 & Over Men's Doubles
1st - Sung Kook Choi / Jin Up Kim
2nd - Ali Oveissi / David Davallou
3rd - Parviz Mojaverian / Alireza Hejazi
3rd- Dell Sweeris / David Sakai
70 & Over Women's Doubles
1st - Tingning Cheung / Chiyako Suzuki
2nd - Connie Mae Sweeris / Donna Sakai
3rd - Yoko Wilcox / Carol Klenfner
80 & Over Men's Doubles
1st - Martin Sundel / Martin Mainster
2nd - Yueh Yun Lu / Chuan Robert Liu
3rd - Paul Liu / Bolar Rao
3rd - Pete May / Odo Wang
U3100 Doubles
1st - Zichun Shen / Ewan Zhang
2nd - Rachel Purwar / Shloak Hiremani
3rd - Arthur Lopez / Kiyoshi Saito
3rd - Jenna S. Vuong / Sunny Lin
U2200
1st - Kef Noorani
2nd - Dhruv Chopra
3rd - James Therriault
3rd - Dan Seemiller Jr
A2000
1st - Victor Moraga
2nd - Larry Hu
3rd - Yi Ma
3rd - Joshua Hong
U1700 Adult
1st - Aditya Reddy Borra
2nd - Carlos Posso
3rd - Jerry Harris
3rd - Filex Shtorper
U1400 Adult
1st - John Shen
2nd - Yi Zhou
3rd - Angus Wang
3rd - Andrew Arcinas
U1000 Adult
1st - Yousuf Rizvi
2nd - Balamurugan Kanagaraj
3rd - Alex Hwang
3rd - Patrick Fowler
U2000 Junior
1st - Jason Louie
2nd - Stuti Kashyap
3rd - Justin Liu
3rd - Sivaraam Velayutham
U1700 Junior
1st - Om Narvekar
2nd - Advik Pradhan
3rd - Ayush Badari
3rd - Olivia Huang
U1400 Junior
1st - Rohan Bubna
2nd - Aditya Singla
3rd - Vraj Amin
3rd - William Wang
U1000 Junior
1st - Vraj Amin
2nd - Tanishq Dhavali
3rd - Ethan Guo
3rd - Mihika Vangapalli
Para Class 6-10
1st - Tahl Leibovitz
2nd - Ilya Rozenblat
3rd - Hamid Ezzat-Ahmadi
3rd - Alex Christie
Para Doubles Standing (18)
1st - Alex Christie / Daniel Rosenfeld
2nd - Tahl Leibovitz / Nenad Bach
3rd - Ilya Rozenblat / Hamid Ezzat-Ahmadi
3rd - Margie Alley / Trent Maclean
Hardbat Doubles
1st - Alex Wu / Yuhang Li
2nd - Steven Claflin / Brian Jortner
3rd - Ali Ammar / Marek Záskodny
3rd - Dan Seemiller Jr / Larry Bruce Hodges
U2000 Hardbat Singles
1st - Ali Ammar
2nd - Marek Záskodny
3rd - Yuanhao Li
Hardbat Junior Boys Singles
1st - Aljay Villena
2nd - Alex Wu
3rd - Akul Shivkumar
4th - Nikhil Chawla
Hardbat Junior Girl Singles
1st - Sara Gulabani
2nd - Isha Bajpai
3rd - Malika Sandybayeva
60& Over Hardbat Men's Singles
1st - Jian Zhuang
2nd - Larry Bruce Hodges
3rd - Steven Claflin
3rd - Robert Koch
60&Over Hardbat Women's Single
1st - Wendy Fang
2nd - Jean Newby
Parkinson Open
1st - Ilya Rozenblat
2nd - Hamid Ezzat-Ahmadi
3rd - Margie Alley
3rd - Nenad Bach
Parkinson Class 1
1st - Ilya Rozenblat
2nd - Hamid Ezzat-Ahmadi
Parkinson Open Doubles
1st - Ilya Rozenblat / Hamid Ezzat-Ahmadi
2nd - Margie Alley / Jan Rose
3rd - Trent Maclean / Farrel Levy
3rd - Kent Hatch / Matt Krantz