USATT Adds Table Tennis Commentator and Journalist Barbara Wei as Media Liaison for Ping-Pong Diplomacy Team Championship Tour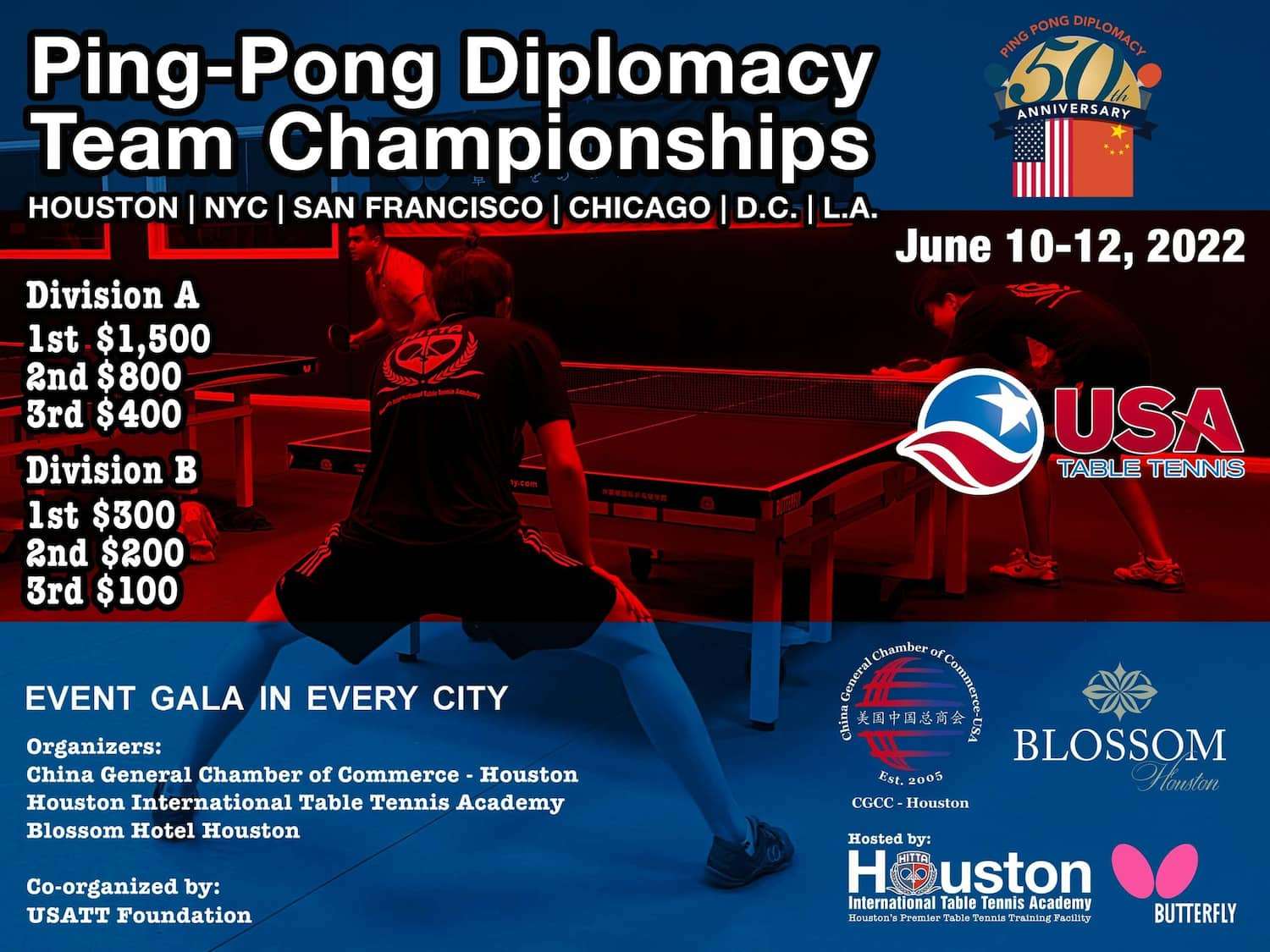 Wei Will Lead USATT's Media Efforts to Cover Six City Team Tournament That Kicks Off in Houston on June 10
(Colorado Springs, CO – May 20, 2022) – USA Table Tennis ("USATT") today announced that table tennis commentator and journalist Barbara Wei will serve as the organization's media liaison for the upcoming Ping-Pong Diplomacy Team Championships, a six-city tour of team table tennis events which kicks off in Houston, Texas (June 10 – 12).
"We're very excited to add Barbara to our team," said USATT Chief Executive Officer Virginia Sung. "She has incredible experience as a table tennis commentator and journalist, and we believe that the Ping-Pong Diplomacy Championship Tour events will present several great opportunities to highlight our sport and some of the people – and characters – playing it. We believe that Barbara is the perfect person to cover these events."
"I'm grateful to USATT for bringing me aboard to assist in covering the Ping Pong Diplomacy Championship Tour," said Wei. "I'm always looking for new ways to advance our sport and bring positive attention to the tournaments and the competitors. Friendship is a key theme for these events, and I cannot wait to show the world the impact table tennis can have on human-to-human interactions. I look forward to meeting the participants in the Ping Pong Diplomacy team matches and covering the outcome of what should be some great table tennis throughout the country."
Wei, who was a Junior and Cadet US National Table Tennis Team member, went on to have a notable playing career at the collegiate level, reaching the Women's Singles Semi-Finals and the Mixed Doubles Finals at the 2008 National Collegiate championships. After representing Team USA at the 2011 World University Games, Wei placed sixth in the US Olympic Trials in 2012.
While earning her master's degree from Harvard University, Wei embarked on what has proven to be an extremely successful venture as a commentator and journalist in table tennis, working in media-related roles for the North America Cup, the Butterfly North America Tour, and the National Collegiate Table Tennis National Championships where she recently served as a commentator for the 2022 National Championships. In November of last year, Wei was one of the lead commentators at the International Table Tennis Federation's World Championships in Houston.
The Ping-Pong Diplomacy Team Championship Tour will travel to six US cities, beginning in Houston before heading to New York City, San Francisco, Chicago, Washington, D.C., and Los Angeles. The tournament is limited to 32 teams for each event, and the top two teams in Group A at each location will be invited to participate in the PPD Tour Championships, which will be held in Los Angeles.
Registration is currently open for the PPD Championship Tour event in Houston, which is sponsored by the China General Chamber of Commerce in Houston, the Houston International Table Tennis Academy, and the Blossom Hotel Houston, which is offering special hotel rates during the event. The entry deadline for this event is June 1, participants can enter the tournament via Omnipong (https://www.omnipong.com/t-tourney.asp?e=0). More information on the Houston stop in the PPD Championship Tour can be obtained through the Houston International Table Tennis Academy at hittaponggm@gmail.com.
End.22 05-20a