National Jr. Team Members from ICC Earn Four Medals at ISF Gymnasiade – World School Sport Games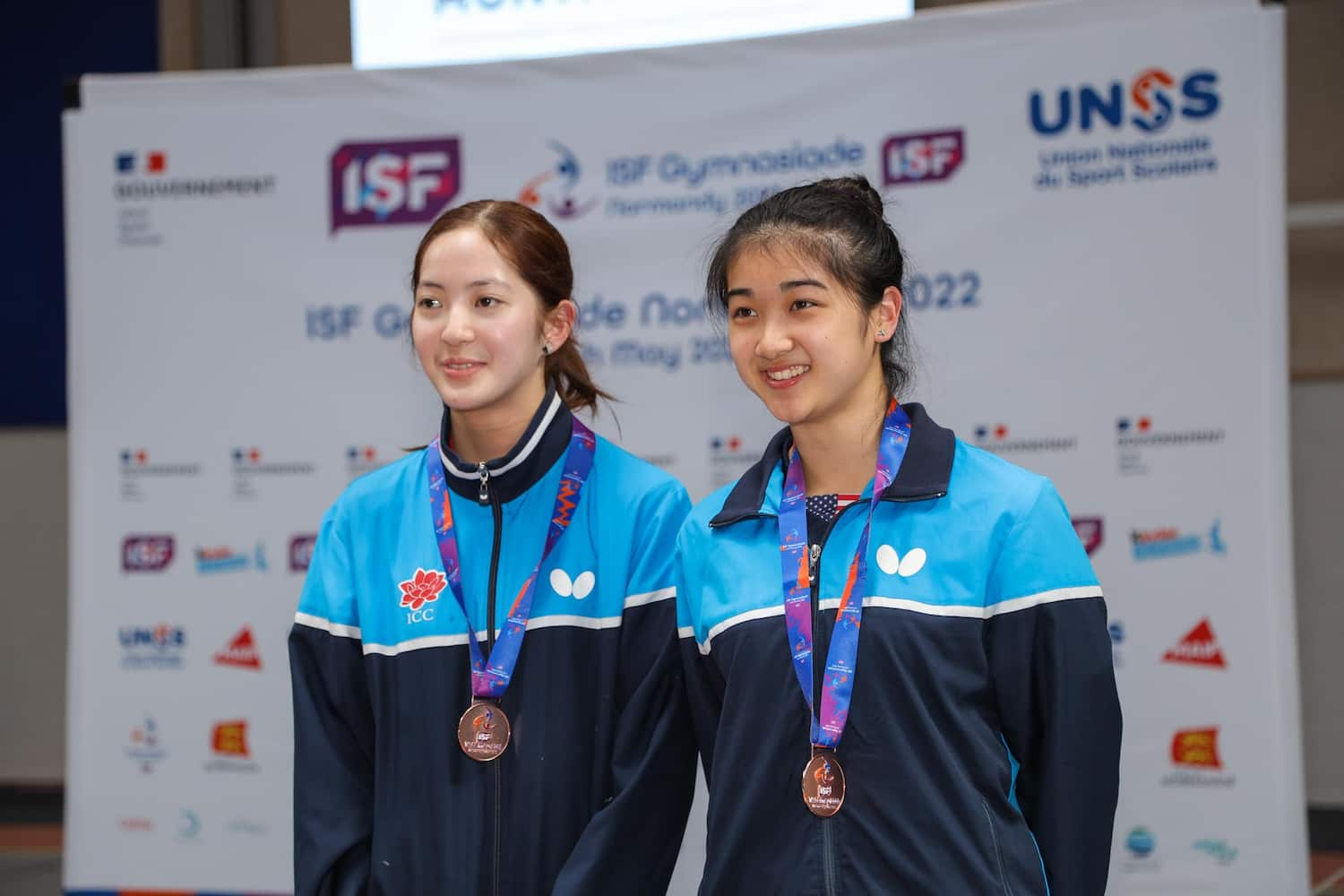 ICC Table Tennis Center stands out with four medals at ISF Gymnasiade, also known as the ISF World School Sport Game, in Normandy, France.
From Argentina to Ukraine, from England to P.R. China, 63 Countries were represented in 20 sports with over 3400+ (131 table tennis) participants at ISF Gymnasiade Normandy 2022.
At the games, there were 54 athletes representing the United States in seven sports – 27 boys & 27 girls – between the ages of 16 – 18. ICC Table Tennis Center contributed five USA Table Tennis athletes of the eight United States players in attendance.
United States Boys Team: Kai Jiang, Sushant Lebaka, Ved Sheth ICC, and Aziz Zarehbin ICC.
United States Girls Team: Faith Hu, Joanna Sung ICC, Rachel Sung ICC, and Angie Tan ICC.
The French trip proved to be bursting with worthy international competition for the young athletes to overcome.
"The experience at the games was amazing. It was a competitive and professional environment and I got to experience a lot of high-level table tennis," said Ved Sheth, United States table tennis medalist.
Sheth continued, "The level of competition was definitely up to my expectations as I saw top players from several high-level countries. Having the opportunity to compete against these players was truly a great experience."
All five ICC National Jr. Team players medaled during the competition. In girls' singles, Rachel Sung and Angie Tan won bronze a pair of bronze medals on opposite ends of the bracket. For boys' doubles, Ved Sheth and Aziz Zarehbin received bronze medals. Rachel Sung and Joanna Sung took bronze in the girls' doubles event.
USA Table Tennis makes its first appearance and mark in history at the ISF Gymnasiade Normandy 2022 games. ICC Table Tennis Center lead the effort by medaling four times at the most sizeable international multi-sport event for 16–18-year-old students in the world.