USA Table Tennis Announces Winners of the 90th Anniversary Celebration World Peace Guitar Giveaway Creative Expression Contest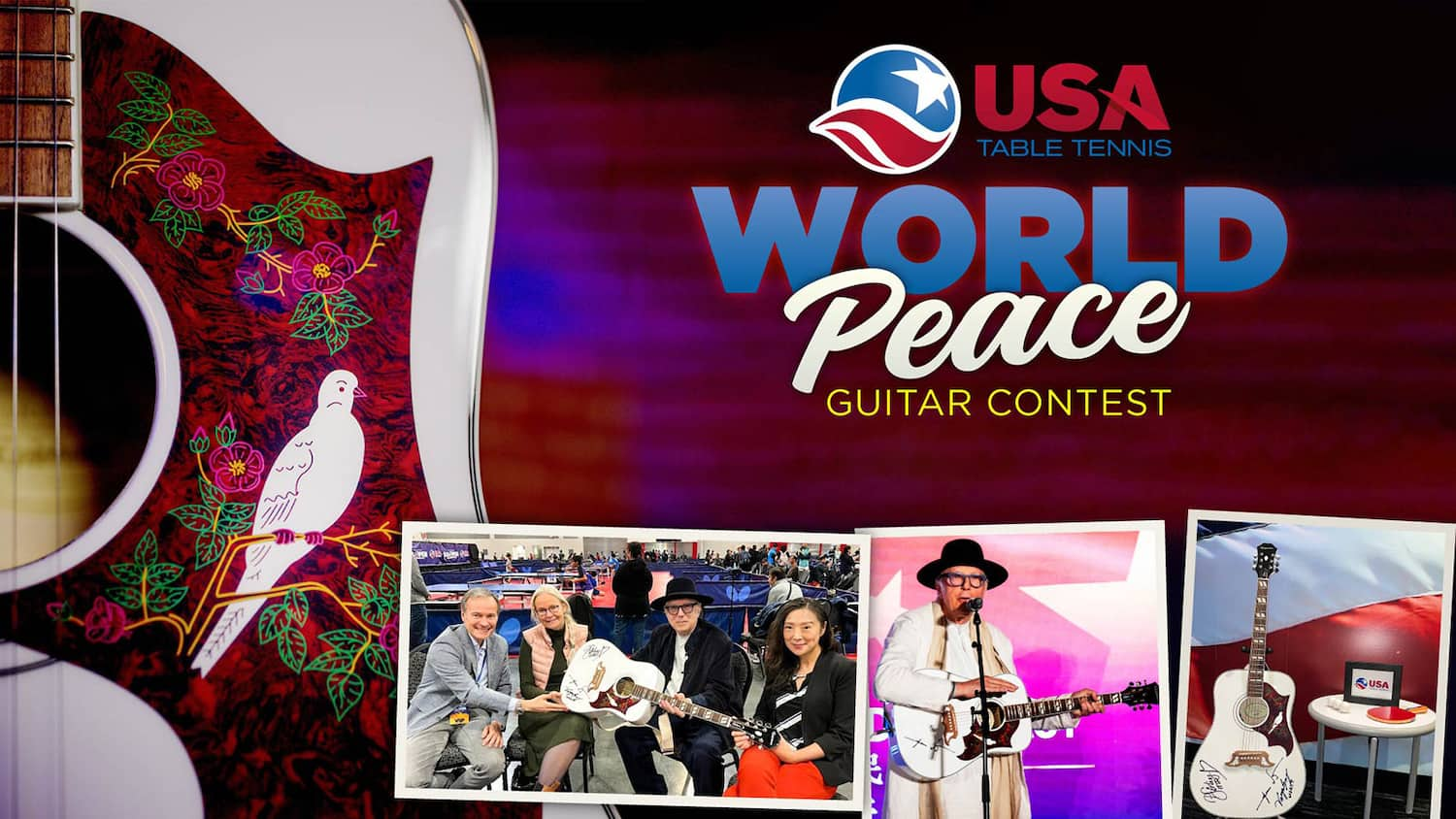 Three Young USATT Members Are Recognized for Their Creative Talents – and Commitment to World Peace – As Shown in Their Exceptional Artistically Expressive Works
(Colorado Springs, CO – April 14, 2023) – USA Table Tennis ("USATT") the national governing body for the sport of table tennis, today announced the winners of the World Peace Guitar Giveaway Creative Expression Contest organized as part of USATT's efforts to celebrate the organization's historic 90th Anniversary and honor the legacy of Ping Pong Diplomacy. USATT Members Aria Shi, Andrea Tang, and Gianna Gupta were the three finalists selected by USATT's Diversity, Equity and Inclusion Committee, who served as the judges of the contest submissions. All three of the finalists earned a free entry into the 2023 US National Table Tennis Championships in Fort Worth this summer (July 3 – 7), as well as a USATT prize pack.
Aria Shi, who is thirteen years old and lives in Princeton, New Jersey, was selected as the winner of the contest for her song "ping pong," which includes the lyrics: "We'll make the world a better place for everyone," they said, / "and we'll live in peace, together. / Cause there's always something you or me could do, / We just need a paddle and a table tennis ball!" The full lyrics and sheet music for Aria's song are available here. You can watch Aria perform her song:
As part of her prize package, Aria will receive the World Peace Guitar – a white acoustic-electric Epiphone "Dove" Guitar, which features the image of a dove on the pick-guard – which was played by Nenad Bach of PingPongParkinson at the Ping Pong Diplomacy Gala in Los Angeles, California, during the US Open Table Tennis Championships this past December. The guitar signed is signed by Nenad, as well as the USATT Chief Executive Officer Virginia Sung and International Table Tennis Federation President Petra Sorling.
Andrea Tang, who is seventeen years old and lives in Newton, Massachusetts, earned finalist honors with her essay entitled "Table Tennis and World Peace," which starts with the line "[m]y coach's experiences as a table tennis athlete often left me captivated and curious about how a single sport held the power to bring people from different nations together…" Andrea included her artwork of a young lady standing next to a ping pong table painted in the image of the American flag. The title of her artwork is: A Place to Belong. Andrea's full essay and artwork can be read and viewed here.
Gianna Gupta, who is fourteen years old and lives in Morrisville, North Carolina, also earned finalist honors with her essay "World Peace Starts with 'Love, All'," which quotes Jimi Hendrix's sentiment that 'the world will know peace only when the power of love overcomes the love of power' and states "[e]very moment that we spend wasting time – by speaking more but doing less – is a lost moment of what could be a remarkable time in future history." Gianna's full essay can be read here.
"We're so proud of our young members and their creative works," said USATT Chief Executive Officer Virginia Sung. "Our sport has been an incredible historical catalyst in the quest for peace in this world with perhaps the best example being the human bonds created by Ping Pong Diplomacy. It's so heartening to see that, in this 90th Anniversary Celebration year for USATT, the next generation is preparing for the challenge of bringing the world together in peace."
"This creative expression contest has exceeded my wildest expectations," said Nenad Bach. "As some people may know, the effort to attain world peace has been an extremely significant part of my life's mission, and to see young people – and particularly young table tennis athletes – committed to this same mission brings, to quote Kenny Loggins, 'a tear of joy to my eyes.'"
USATT wants to thank all of the persons who participated in the World Peace Guitar Giveaway Creative Expression Contest – and particularly the members of the Diversity, Equity and Inclusion Committee who so graciously served as the judges for this contest.
End.23 04-14a