Summer Training to Reach New Heights at Texas Table Tennis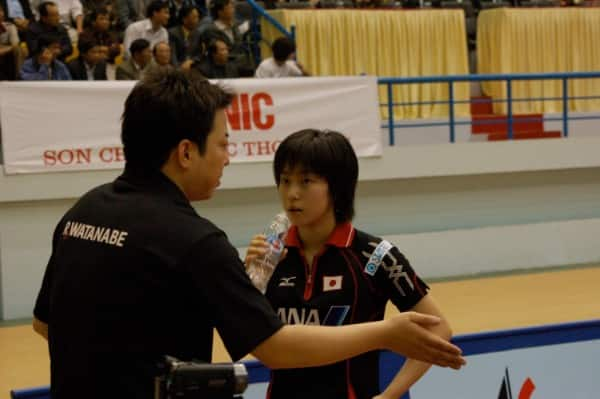 The Texas Table Tennis Training Center in Houston, Texas has always had the mission of elevating the sport of table tennis throughout the local community and beyond.
In less than two years since its inception, club owner Dylan Nguyen has installed professional quality flooring, superior lighting, and numerous other enhancements to showcase the sport in the finest way possible.
Nguyen began developing a relationship with the Japanese National Team in 2021, hosting them during their visit to Houston for the ITTF World Table Tennis Championships.
Now, the next step in this evolution is to organize a world class training experience this summer directed by Japan's internationally renowned coach, Riki Watanabe. Here is a brief summary of Coach Watanabe's extensive table tennis experience:
1997-2000: Coached Shitennoji High School's Miki House table tennis team and nurtured many champions in national junior high school tournaments and national high school championships.





Sept. 2000-Sept. 2001: Stayed in Europe as an overseas trainee of the Japanese Olympic Committee studying the practice methods used at major clubs and national teams, mainly in Germany and France.





2000-2010: Worked as a coach for the Japanese national team, helping the women's team earn 3rd place finishes at the 2006, 2008, and 2010 World Championships.





Twice awarded Japan's Minister of Education, Culture, Sports, Science and Technology Award.





2011-present: Coached the following elite level players: Miyu Kato, Mima Ito, Miyu Kihara, Ryoichi Yoshiyama, Kazuki Yoshiyama, and others.

Watanabe has visited approximately 40 countries, participating in competitions and training camps. In particular, China, Chinese Taipei, and South Korea many times and held training camps and exchanges with their respective leaders.
In this summer training camp, Coach Watanabe will be assisted by Shoko Kusuhara. She has her own impressive summary of credentials as both a player and coach:
2003: National Junior High School Tournament, 8th place in team competition.





2004 National Junior High School Tournament, 3rd place in team competition.





2008 National High School Tournament, 9th place in team competition.





2012-2018: Competed in the All Japan Table Tennis Championships.





2018: Became a licensed table tennis coach from the Japan Sports Association.





2020: Joined the coaching staff for the Japan Para Table Tennis Team, including the 2020 Tokyo Paralympics.
This exclusive table tennis training will consist of a series of camps running throughout the month of June with plans being made for a USATT-sanctioned tournament in the middle of the month.
There is currently a commitment of participation from an eight-member delegation of the Vietnam National Team. A limited number of additional spots in these camps will be available for dedicated athletes seeking to take their games to the next level.
For more information, please contact Dylan Nguyen, by email, texastabletennistrainingcenter@gmail.com, or phone, 832-596-8927.
Coach Watanabe & Coach
Kusuhara