Westchester 2023 Northeast Regionals Designate New Champions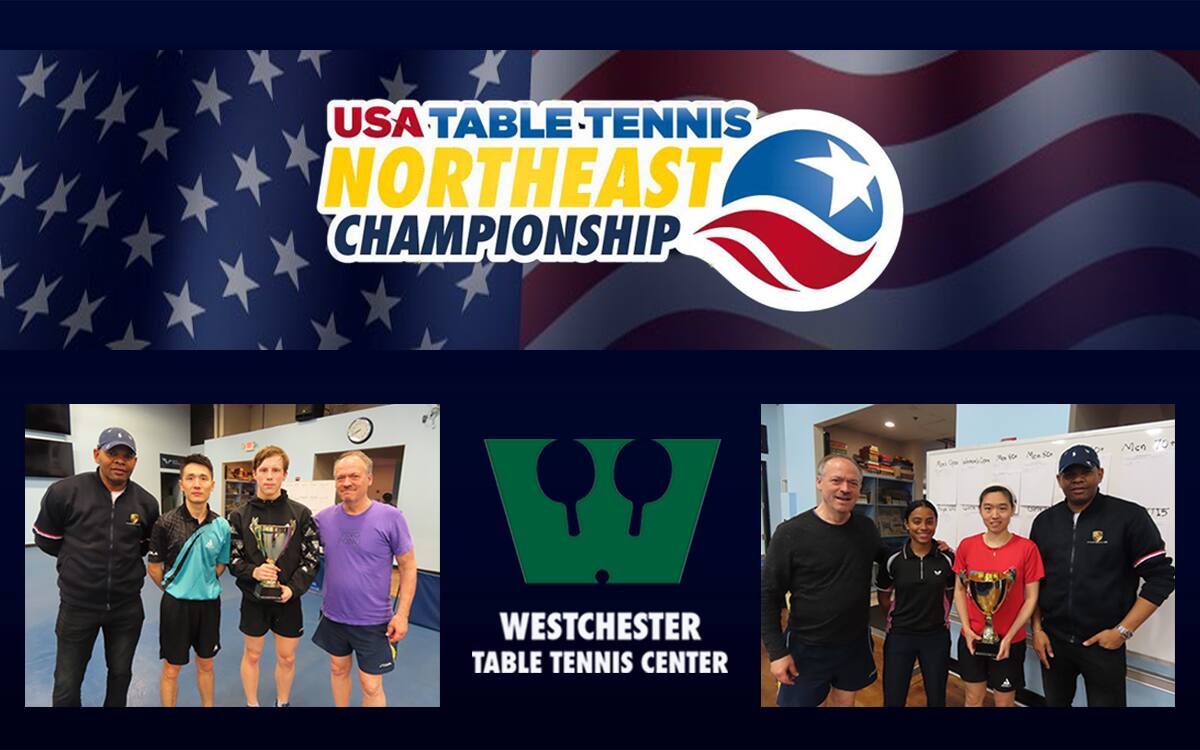 The 2023 Northeast Regional Championships tournament was held at Westchester Table Tennis Center in Pleasantville, New York. A number of new champions were designated for the entire region by the conclusion of weekend festivities, and excitingly enough, there were some new faces among the winners.
Taking first place in the Men's Singles event this year was Jonathon Thimon. Shuang Wang was awarded as the Women's Singles Champion in the Northeast.
2023 NORTHEAST REGIONAL CHAMPIONSHIPS RESULTS
Men's Open
1.Jonathan Thimon
2.Zongqi Zhong
3.Tahl Leibovitz
4.Seonbeom Huh
Women's Open
1.Shuang Wang
2.Yasiris Ortiz
Boys Under 19
1.Yashraj Shah
2.Sean Chen
Boys Under 17
1.Sean Chen
2.Jay Chen
3.Andy Liu
4.William Feng
Boys Under 15
1.Yashraj Shah
2.William Feng
3.Andy Liu
4.Jay Chen
Girls Under 15
1.Amoolya Menon
2.Liora Cheung
Boys Under 13
1.David Su
2.Zhangyan Zhu
3.Saivaishnav Senthilkumar
4.Ishan Rangdal
Girls Under 13
1.Emma Yang
2.Liora Cheung
3.Anna Naumova
4.Oishani Mukherjee
Boys Under 11
1.Zhangyan Zhu
2.Jason Zheng
3.Saivaishnav Senthilkumar
4.David Su
Girls Under 11
1.Emma Yang
2.Oishani Mukherjee
Men Over 40
1.Tahl Leibovitz
2.Courage Nanevie
3.Jackie Feng
4.Ming Cheung
Men Over 50
1.Ming Cheung
2.Jose Surez
3.Jackie Feng
4.Steve Finn
Men Over 60
1.Kim Nguyen
2.Jose Suarez
3.Neil Cole
4.Brian Moran
Men Over 70
1.Will Shortz
2.Jerry Mintz
Please visit westchestertabletennis.com for a more detailed look at match and tournament results.
The champion for each event that has six or more competitors at the Regionals will receive free entry into the US Nationals for that particular event. There is no limit on the number of events that a person can enter and win at the Regional level in order to receive free entry for that event into the 2023 US Nationals.