NEW YORK SQT - WESTCHESTER TABLE TENNIS CENTER, WILL SHORTZ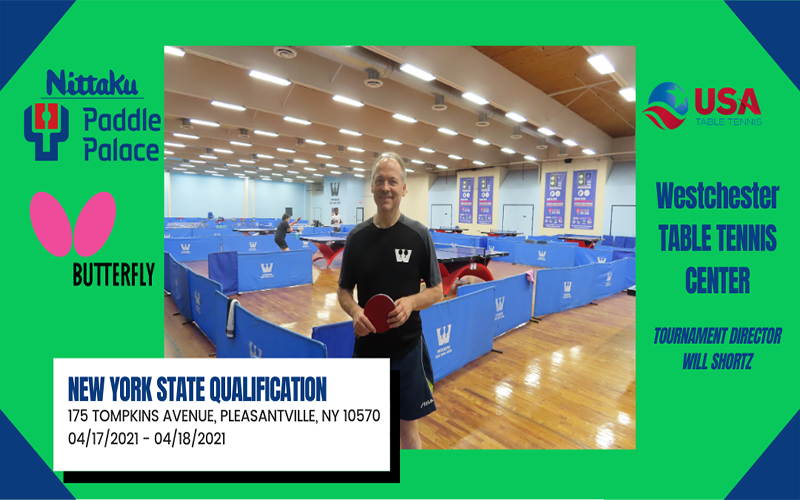 The New York 2021 US Nationals Table Tennis Championships State Qualification Tournament (SQT) will be at Westchester Table Tennis Center. The prestigious club will host the tournament on Saturday, April 17th - Sunday, April 18th. Event registration is now open.
Westchester Table Tennis Center's massive venue has 30 rainbow-style Double Happiness tables on barriered courts inside the facility. The court size average is 38 feet by 20 feet. The flooring is athletic flooring on gymnasium wood. The club is equipped for large-scale tournaments making it prime real estate for the first New York State Qualifier.
Club owner Will Shortz established Westchester Table Tennis at 175 Tompkins Avenue, Pleasantville, New York, in 2011. Shortz opened the club as a place for the table tennis community in New York to play, and it shows with the variety of the members and players that frequent his club.
"The Westchester Table Tennis Center is a club for all skill levels -- from beginners to some of the top players in the country. It's a friendly, open club, very diverse in age, gender, and ethnicity. Members were born in more than 30 countries," said Shortz.
The State and Regional Qualification Tournaments are a new element of the US Nationals Table Tennis Championships. Many high-quality players in the state can seize the opportunity to qualify for the main draws at the US Nationals. The state's player quality can only lead to anticipation for some great table tennis matches during the State Qualifier.
When asked if the club was excited about hosting the tournament Will had this to say, "Westchester County is centrally located in New York State, and New York is among the states with the most table tennis players. And we have the largest and nicest facility here. So, yes, we're honored and excited about hosting this event."
The centralized New York club is the premier location to host the inaugural New York State Qualification tournament. Considering the quality and sheer size of the Westchester Table Tennis Center facility by itself makes it a great tournament location. With all the diverse and elite table tennis players in New York and the state qualifier is shaping up to be a grand display of table tennis competition.