VIP Studded Ping Pong Diplomacy Event Lands in Raleigh, North Carolina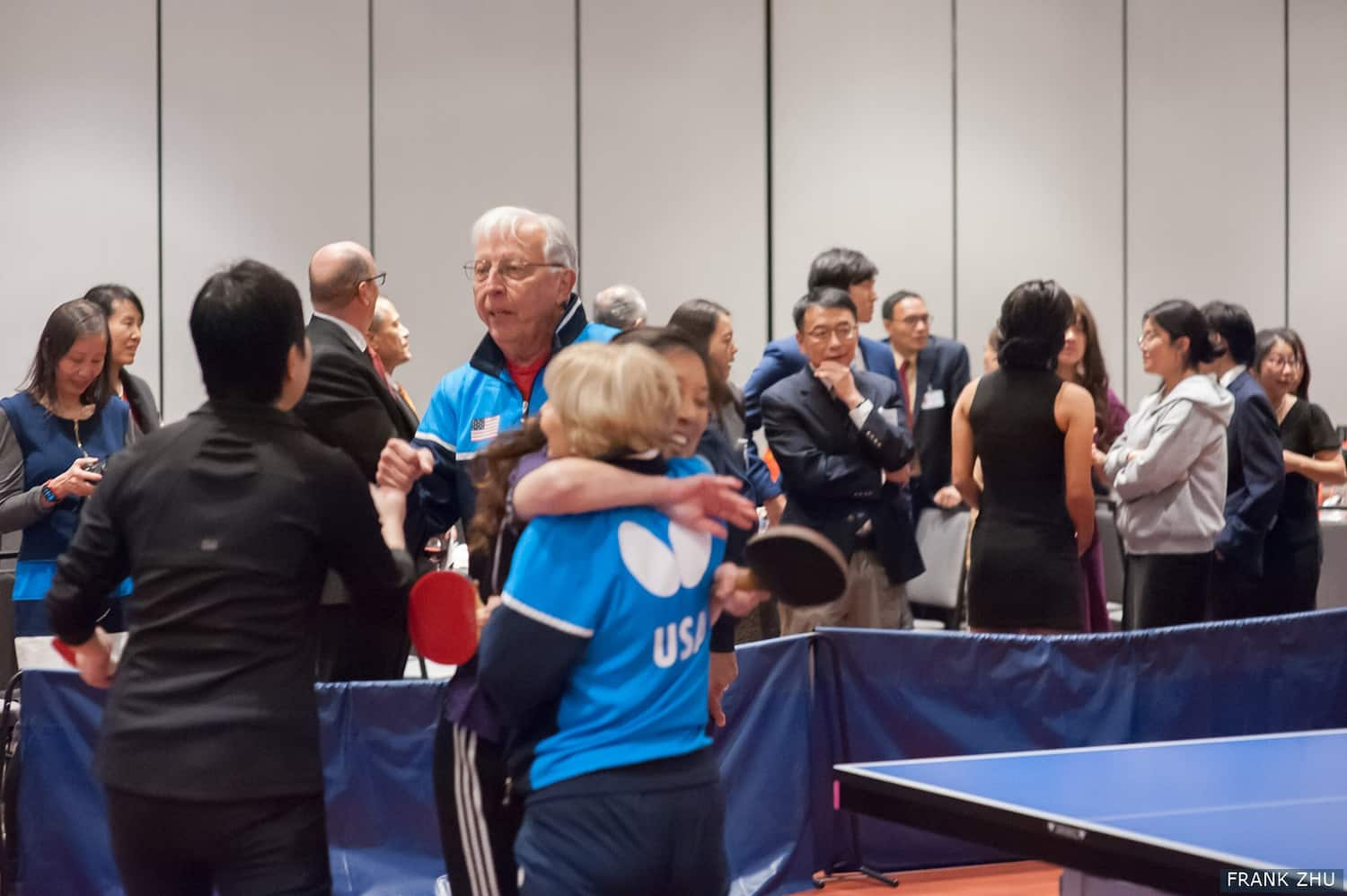 On December 4th, over 250 people descended in Cary, North Carolina (10 miles west of Raleigh) for the 50th Anniversary Celebration of Ping Pong Diplomacy and the Carolinas Chinese Chamber of Commerce's Annual Gala. The dignitaries attending the event included table tennis diplomacy legends Dell and Connie Sweeris, past USA table tennis president Jim McQueen and current chairman of the USATT board Richard Char, among many others. The gravitas of the event was prominent in the local North Carolina VIP speakers including Thom Tillis (US Senator for North Carolina), Mark Robinson (Lieutenant Governor for North Carolina) and Elaine Marshall (North Carolina Secretary of State). With a star-studded line up of educational speeches, recognition, food, fun and an incredible table tennis exhibition by Connie, Dell, Feiming Tong and Diana Gee, it was a night to remember for all attendees.
Earlier in the weekend, Triangle Badminton and Table Tennis (TBTT) hosted the Ping Pong Diplomacy Celebration tournament which featured 8 events in Singles and Doubles including 51 local players. Jason Niu, president of TBTT, expressed his support for the event, stating that he hopes Ping Pong Diplomacy can inspire the next generation of young players to appreciate table tennis not only for the sport, but also for the opportunity to learn sportsmanship, diplomacy and grow into great citizens.
TBTT is a premier table tennis and badminton facility in Morrisville, NC. Founded in 2014 by Ann Campbell as a leading table tennis center, it was recently converted to a mixed table tennis and badminton facility in 2020. The space houses 22 tables, 8 badminton courts and over 600 members who are dedicated to sport as a means of community and support.