Coach Park Ji-Hyun & Coach Tao Wenzhang to Lead World-class Table Tennis Camp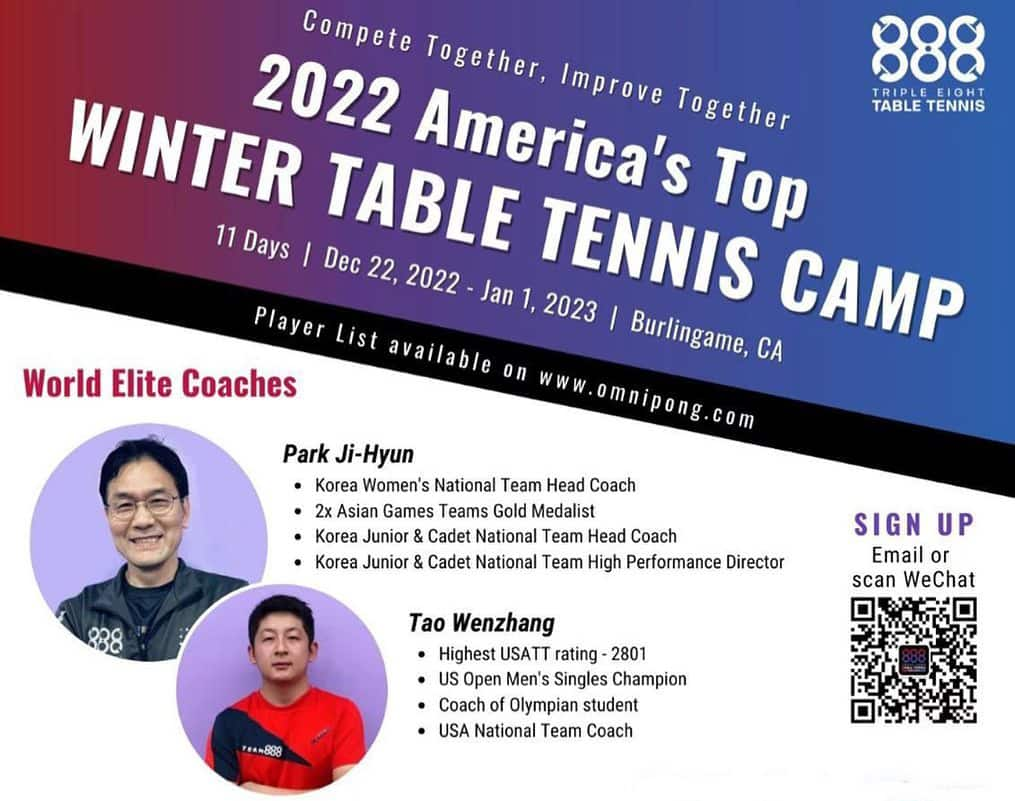 Coach Park Ji-Hyun and Coach Tao Wenzhang are readying themselves for their upcoming 11-day world-class table tennis camp at 888 Triple Eight Table Tennis Center. The 2022 America's Winter Table Tennis Camp will run from December 22, 2022 – January 1, 2023.
As a part of the Korean Table Tennis Association, Coach Park was able to come for a visit to help coach at 888 for two weeks and enjoyed the opportunity to see the United States and coach here so much he decided to join 888. With him, Park brings 30 years of international coaching experience to the Bay Area. His experience includes yet is not limited to, being a 2X Asian Games Teams Gold Medalist as a player and the former Korean Women's National Team Head Coach.
Coach Park looks to bring a more modern approach to the camp, "We want them to learn not just good table tennis, but great table tennis. There's more potential to grow when we work teach them trending table tennis, not just what table tennis was in the past but where modern table tennis is moving to."
Park's coaching approach to pull the best abilities out of players is to focus on improving player strengths and possibly, more importantly, improving upon their weaknesses. Players in the camp will be grouped into beginner, intermediate, and advanced levels to build their performance toward the next level and beyond.
As for what players can expect attending the camp, first and foremost, the coaches are looking to improve player performance. The coaches also seek to utilize trending table tennis styles. Teach that bonding and teamwork are important aspects of playing the game. The camp atmosphere will be very intense, yet 888 wishes to keep things fun and enjoyable for all the players.
There will be three training sessions a day including technical training, physical training, and video analysis.
The coaches still emphasize the theme of the winter camp as being a high-level and professionally run camp. The camp is expecting international players from Korea and Malaysia this December. The hope moving forward into next year would be to invite players from more countries to hold a global camp.
Coach Tao Wenzhang, a former U.S. Open Men's Singles Champion and National Team Head Coach will also lead the camp alongside Coach Park Ji-Hyun. Wenzhang joined 888 in March of 2022 and expressed much gratitude for the opportunity to join the coaching staff.
According to Coach Wenzhang, a key element of their coaching strategy at 888 will be to use practical training and experience. The players will use newly acquired techniques in observed exhibition matches instead of drilling new techniques repeatedly.
In regular communication, Park and Wenzhang bring two different coaching styles to the table, Wenzhang mentioned, "Both of our coaching styles complement each other, Coach Park is on the calmer more humble side, and I'm more on the passionate side."
Looking to bring their combined experience and coaching styles together for the camp, the two lead coaches will pair competitiveness and humility to more effectively reach player potential at the 2022 America's Top Winter Table Tennis Camp.
All in all, for those looking for the perfect holiday gift basket, table tennis players attending the camp will see a jolt of international competition to sharpen their skills leading into the upcoming year.
2022 America's Top Winter Table Tennis Camp – Schedule and Signup Information